Meet Our Staff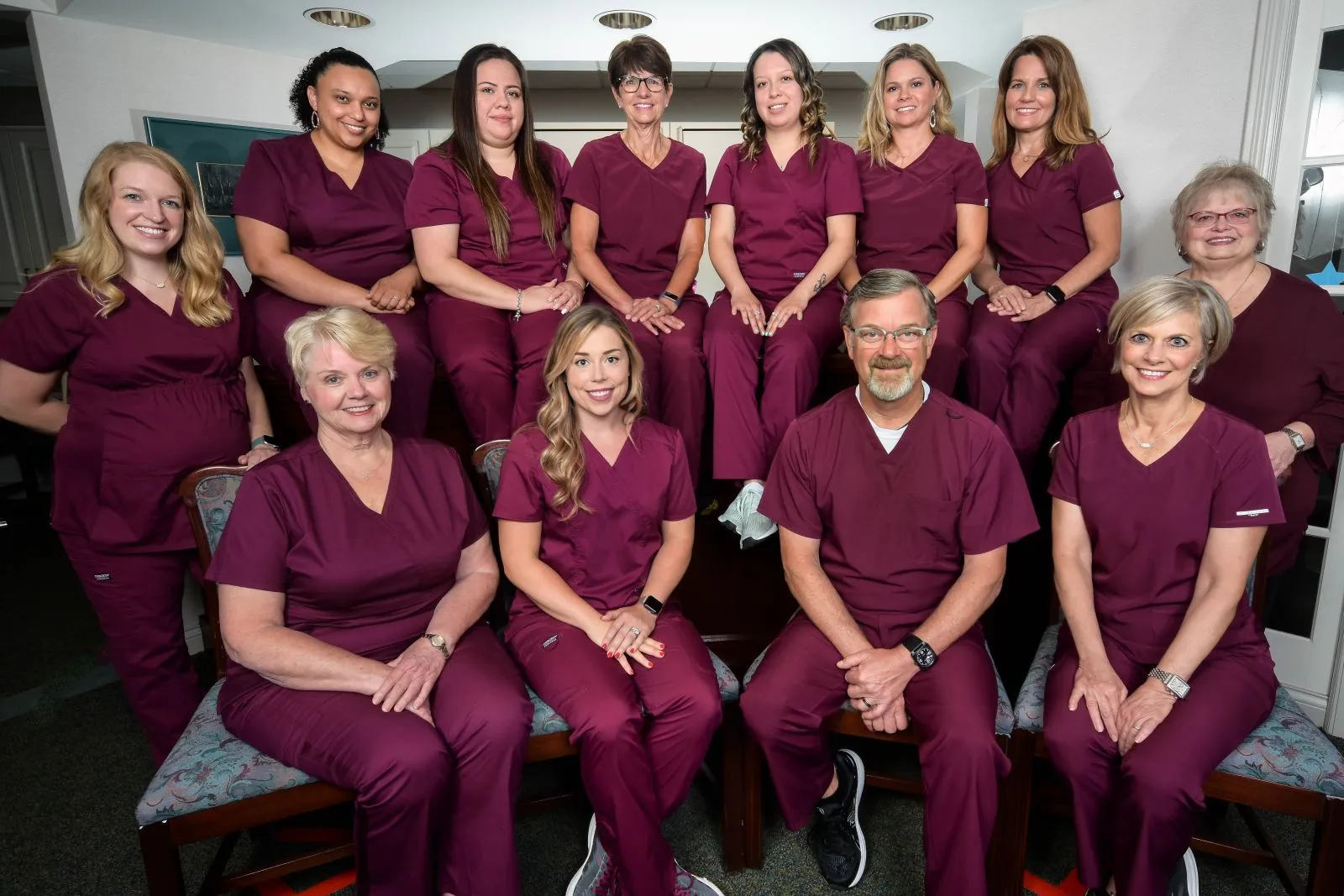 All our professionals at Broadway Family Dental Group maintain the highest levels of accreditation and pursue ongoing education to stay abreast of the latest trends in dentistry.
Only the best people will do-in every area. These people will be highly motivated to achieve results; Have high standards of quality and integrity; Are conscientious towards others; Will strive for team performance; And have a commitment to personal growth. They will be driven towards continual upward movement and innovation and will possess the capability and desire to rise above and beyond the rest.
Dr.

D.D.S., F.A.G.D., F.I.C.D., F.A.C.D.

Dr. Phillip J. Fijal is a 1986 graduate of Loyola University of Chicago School Of Dentistry. After practicing with his father Chester, a 1947 grad also from Loyola, for about a year, he bought his father's practice in late 1987. He has done postgraduate training in comprehensive restorative dentistry completing the continuums at The L. D. Pankey Institute in Key Biscayne, FL., and studied business management and leadership training for 18 years with The Pride Institute in San Francisco, CA.

Dr. Fijal has served organized dentistry at the local, state, and national levels throughout his years in practice. He has held many positions in the Chicago Dental Society, as Director to the Board of Directors from the Northwest Suburban Branch, Program Chairman for the 2008 CDS Midwinter Meeting, and President of the society in 2017. He served the Illinois State Dental Society as a Trustee to the Board of Trustees from 2009-12 and General Chairman of its Annual Session in 2005. At the national level, he has been a Delegate for many years to the American Dental Association's House of Delegates and served a four-year term on the ADA Council on Government Affairs, the last year as its Chairman. He has been awarded a Fellowship in the Academy of General Dentistry, the International College of Dentists, and the American College of Dentistry. Outside of organized dentistry, Dr. Fijal is President and spokesperson for The Jeffrey Pride Foundation For Pediatric Cancer Research and Chairman of Northwest Community Hospital's Dental Advisory Committee and has served on the Boards of the Des Plaines Lion's Club, Lakeview Homeowners Association, and Biltmore Country Club.

His hobbies are golf, cooking, wine collecting, and most importantly spending time with his wife Jan, their kids, and grandkids.

Dr.

Michelle E.

Knebelsberger

D.M.D.

Dr. Michelle Knebelsberger, a Chicago native, received her DMD degree from Midwestern University College of Dental Medicine - IL in 2017 after completing her undergraduate degree at Indiana University. While completing her education, she worked at Broadway Family Dental Group, the practice she has been a patient at since the age of 3. She has always had an end goal of becoming a dentist and to work alongside her mentor and role model, Dr. Phillip Fijal. She landed her dream job as an Associate for Dr. Fijal in the summer of 2017.

Dr. Knebelsberger is a member of the American Dental Association, Illinois State Dental Society, Chicago Dental Society, Delta Sigma Delta, and the Academy of General Dentistry. In 2018, she was inducted into the Member's Group of the Chicago Dental Society. The group's mission is to develop future leaders in organized dentistry for the CDS, ISDS, and ADA. For 2020-21, Dr. K is the dinner chair for the CDS Members Group and the Northwest Suburban Branch of CDS. She continues furthering her dental education through a SPEAR study group with other local general dentists and specialists in the community.

Outside of the office, her hobbies include taking classes at Orangetheory Fitness, sports nutrition, and spending time with friends. Dr. K married her husband, Douglas Knebelsberger, in 2017, and later adopted their dog, Ella.

Business Coordinator

Jan is a 1984 graduate of Northern Illinois University in Dekalb, IL receiving a bachelor's degree in Nutrition and Dietetics. Prior to attending college, Jan worked for two years as a dental assistant. After obtaining her degree, she worked as a Dietitian in various capacities for nearly 6 years, before returning to dentistry, the field she truly loved. She has worked as a Business Coordinator for 24 years, loves the job and the patients, and feels that the relationship developed with them is what makes her job so rewarding.

C.D.A.

Suzanne graduated from Loop College (City of Chicago Colleges) with an Associates Degree in Applied Science. She also took classes in Dental assisting, and became a Certified Dental Assistant after taking her national boards, passing all categories in radiology, anatomy, lab skills and chairside assisting. She has been working in her profession for 40 years.

Suzanne has three children and ten grandchildren. She enjoys working with her wonderful teammates at our front desk now for three years. She enjoys reading, walking and playing with her grandchildren.

Elisa completed a certificate course in dental chairside assisting in January of 2015 at State Career College in Waukegan, IL and worked at another dental office prior to starting at Broadway Family Dental in December 2019. She is one of the lovely ladies at the front desk, and enjoys scheduling appointments, processing payments and insurance claims, and making your visit as pleasant as possible, both in person and on the phone while getting to know everyone a little better.

When she isn't working, she volunteers at her daughters middle school and takes American Sign Language and dance fitness classes whenever she can.

Treatment Plan Coordinator/Financial Coordinator

Linn has been in the dental field since 1987 and started working for Dr. Fijal in 1996. She is the treatment plan coordinator, scheduling appointments, processing insurance claims and arranges financial agreements. She also takes continuing education courses to better assist patients with their treatment and helping to maximize their insurance benefits. She enjoys spending time, with her grandson and reading.

R.D.H., A.S.

Amy graduated from Parkland College in Champaign, Urbana in 1998, with an A.S. in Dental Hygiene. She began working for Dr. Fijal in 2000. She enjoys educating patients by helping them understand the importance of the connection between their mouth and overall body health. She also enjoys the relationships that she has built with the patients throughout the years. Amy helps maintain a strong periodontal program along with the rest of the team by continually taking new courses to keep educated.

Amy got married in 2002 and has two children and a dog. She enjoys working part-time so she can spend time having fun with her family.

R.D.H.

Joanie started working for Broadway Family Dental in 2018. In the office, you will often hear her talk about how much she loves her job. She is passionate about dentistry and the friendships she has built with patients mean the world to her. 'Being a hygienist is so much more than providing quality cleanings. It is being a good listener, providing thorough health evaluations, a personalized oral treatment for unique needs, nutritional counseling and giving up-to-date information to ensure continuity of patient health as good practices are developed into a routine at home.' She believes strongly in the integration of good dental and oral health as a front line strategy for overall health. Joanie takes the time to get to know you personally, to know what your goals are, and tries to ease patient anxiety for those who struggle with dental fear. When you are in her chair you are the one in charge and she will work hard to exceed your highest expectations.

Joanie has four wonderful children whom she loves to spend time with. Some of her life's greatest lessons have come from being a parent. She also loves exploring, traveling, cooking, the arts, and volunteering. She received her dental hygiene degree from the College of Lake County and has a B.S. in Business from Canisius College in Buffalo, NY where she grew up.

Assistant

Ruth Ann started working with Dr. Fijal in 1990. During this time she has come to know the patients very well, so well, that they all feel like family. Having grown up in Argentina, Ruth Ann speaks both Spanish and English. She has made many friends from the Spanish-Speaking community, and assists with Spanish-Speaking patients, interpreting, scheduling appointments, and making financial arrangements. Ruth Ann continues to educate herself by taking continuing education courses and getting extra certifications. She loves her work as a dental assistant and looks forward to many years to come. In her free time, she loves spending time with all her grandchildren.